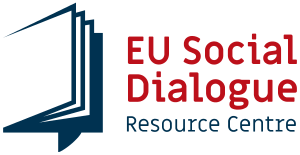 The project
A dedicated space of our client ETUC (European Trade Union Confederation), the Resource Center project offers a variety of tools which meet the specific needs of trade unionists involved in labour negotiations at the national and European levels.
It is intended for representatives of social partners (mainly trade union organisations) and provides them with information on political and legislative developments in the field of European social dialogue. The ETUC Resource Center also offers practical assistance in their research and procedures.
Visit the website
Unlike the ETUC website (where we had been asked to maintain an existing site and improve its user experience), the Resource Center is a Drupal 8 project designed from the ground up by WebstanZ. The aim was to bring together a large number of resources, thematic projects, work programmes, and other joint outputs in one place.
One of the challenges presented by this site was the integration of images masked by vector curves, which required an absolute mastery of SVG masks. As each browser has a slightly different rendering engine than its competitors, we had to do a lot of research and testing to find the most consistent solution.
Thanks to workshops with the client, we also got to know the company and its motivations better, defined the main lines of communication, and carried out an optimal distribution of the content of the site.
A project from scratch;
Wireframe, design, and development;
UX challenge to make the interface understandable despite it being complex.

An organised interface and design
After having determined the requirements inherent to the project, we designed wireframes in keeping with the rules of user experience (UX) in order to distribute the site's content in an optimal manner. A mock-up was then created on the basis of these workshops after the user interface (UI) framework had been validated.
To make navigating through this collection of resources easier, we opted for the Drupal 8 module called Facet. These resources can now be sorted via a series of checkboxes, allowing the results to be filtered by three entity types (Agreement, Action Framework, and Others).
A global search among these resources is also available thanks to the use of the Drupal 8 Search API module. Because its development was articulated along these two axes (sorting and search), the ETUC Resource Center site offers its users very smooth navigation.
Want to know more about our work with ETUC Resources center?
Focus on certain features
Sorting tool for different types of articles;
Management of media in different formats (pdf, video, images, etc.);
Drupal theming (set-up of a specific layout);
Option to add enriched content according to the user's wishes (whole paragraph, columns, alternating with an image, etc.); We developed a content editing toolkit based on the paragraph module offered by Drupal;
Drupal modules for SEO;