There has been an explosion in online sales in recent years, and this trend has been further amplified by the COVID-19 pandemic which has been raging since early 2020. For brick-and-mortar companies (whose sales are exclusively traditional, as opposed to "pure players" who carry out their entire business online), having a professional e-commerce site and online store is now an essential requirement. WebstanZ is an agency specialising in digital technology, and will help you create your platform from its conceptualisation to its launch and maintenance.
The Drupal Commerce module (which has been evolving constantly since its creation in 2011) combines the power of the Drupal CMS with a high-end online sales portal. This integration makes it possible to implement advanced features in your platform, such as inventory, delivery, and payment management, while benefiting from the optimisations offered by the Drupal engine for content management.
The winning duo of Drupal and Drupal Commerce means we can offer you a tailor-made solution for selling your products and services online.
Let's talk about your project
Support from start to finish
Our analysts and project managers will be at your side to support and advise you throughout the development of your e-commerce site. For your platform, we offer an optimised integration between the Drupal CMS and the Drupal Commerce module, adapted to your business, tools, and operating methods.
On the back-end, our developers are well-versed in the techniques required to link your platform to third-party systems (such as payment systems, ERP software, stock management, CRM software, email, etc.), which are often required for this type of project.
We also help you choose a hosting solution adapted to your needs, and we ensure the scalable application-related maintenance of your platform after its launch.  This brings you long-term peace of mind.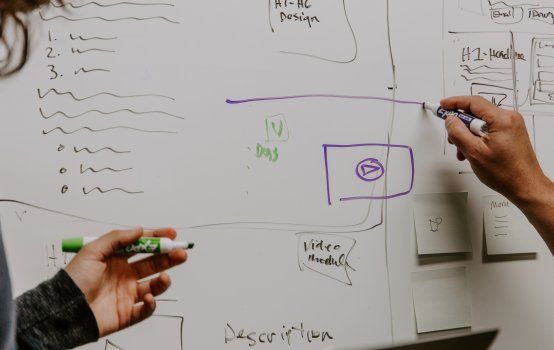 Innovation and intelligence
In an ever-evolving digital world, it's vital to always be aware of technological developments. Following the latest developments in e-commerce in real time allows us to offer you the most modern and effective commercial solutions.
The Drupal Commerce solution which we use to create these online sales platforms has two major advantages: on the one hand, it makes it very simple to manage your online store, and on the other hand, it adapts very easily to the constraints of your business (invoicing, delivery, online payments, etc.).
Based on the same software and the same architecture, Drupal and its Drupal Commerce module integrate perfectly with each other to offer a single platform with a harmonious interface, regardless of which user is connected (editor, webmaster, e-shop manager, or visitor).
Why use Drupal Commerce for your e-shop?
A secure shopping experience for your customers and a return on investment for your e-commerce store;
Integrated payment modules for fully secure shopping;
A responsive, reactive, web-optimised online catalogue designed by specialists;
A unique and simplified shopping experience thanks to the limitless customisation of the interface and the numerous options in terms of add-on modules;
Flexible integration of third-party systems: ERP, invoicing, logistics, etc.
A powerful search tool
SEO optimisations dedicated specifically to e-commerce